As Quoted on:
Paris's top 10 hidden shopping passages
Whether splendidly restored and full of chic boutiques or run-down and quirky, the historic shopping arcades of Paris offer retail therapy par excellence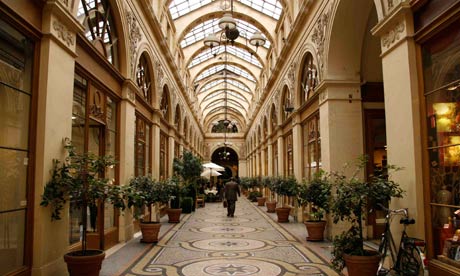 At the end of the 18th century, town planners in
Paris
created a labyrinth of hidden
passages
across Paris. Over the years many fell into disrepair or were demolished, but if you know where to look you can still push back a doorway and walk into a fabulous belle époque arcade, a glittering art nouveau
galerie
or an ancient courtyard. Here are 10 worth tracking down.
Passage du Grand Cerf
The Grand Cerf was restored to its former glory a few years ago and could be the most beautiful Parisian passage. But it is off the usual tourist track, and rarely crowded, despite being home to a host of tempting shops. Florist Marie Stark gets up at the crack of dawn to choose flowers in the Rungis wholesale market, while Eric et Lydie are contemporary jewellery designers who were originally discovered by Christian Lacroix. La Corbeille (
lacorbeille.fr
) stocks eye-catching homewares, and Pour Vos Beaux Yeux specialises in vintage eyewear. Le Pas Sage (the naughty boy) is a funky
bar à vin
, perfect for a post-shopping tipple.
• 145 rue Saint-Denis, 1st arrondissement, metro Etienne Marcel
Passage Brady
Passage Brady is an unofficial Little India, lined with curry houses, spice shops and bazaars selling fabrics, incense and religious statues. Although there is a lively atmosphere, the food is bland – cooked for a predominantly French clientele – but prices are low. Check out Passage de Pondicherry, which serves tasty south India dishes such as masala dosas.
• 43 rue du Faubourg-Saint-Martin, 10th, metro Chateau-d'Eau
Galerie Vivienne
Here sumptuous architecture, delicate mosaics and grand statues have been wonderfully preserved, and the shops and restaurants are seriously chic and expensive. Jean-Paul Gaultier opened his first boutique here and it remains his flagship, and fashionistas will want to check out the cool designs of Didier Ludot in the fabric emporium Wolff & Descourtis. Les Caves Legrand (
caves-legrand.com
) is arguably the best wine shop in Paris, Bistrot Vivienne (
bistrotvivienne.com
) is good for either a drink or a meal, and A Priori Thé (
apriorithe.com
) is an elegant rendezvous for afternoon tea.
•
galerie-vivienne.com
, 2nd, metro Bourse
Passage Molière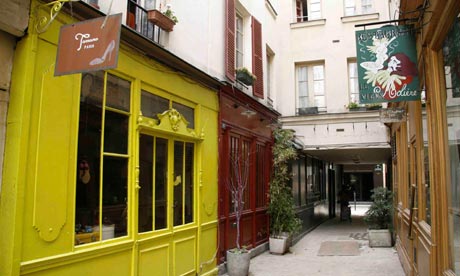 This passage was named after the Théâtre Molière, which presented many of the great French dramatist's plays. The theatre still exists, renamed La Maison de la Poésie. But for film buffs from around the world the draw here is the Librairie Scaramouche, where colourful owner Hugues Masson has a vast collection of rare cinema posters. And don't miss the minuscule atelier of Japanese shoemaker Tamano Nagashima (
tamanoparis.over-blog.net
), whose made-to-measure one-off creations are surprisingly well-priced at €250. The passage is a haven of peace compared with the nearby Les Halles shopping mall.
• 161 rue Saint-Martin, 3rd, metro Rambuteau
Passage du Caire
This is a functioning, industrial passage in the garment district, worth visiting for its distinctive architecture and glass roof. The labyrinth of covered alleyways is lined with ateliers churning out fashions. In rue du Nil, a side street opposite the passage, desperately trendy restaurant Frenchie (
frenchie-restaurant.com
) has opened a winebar opposite for all the clients who can never get a reservation.
• 2 place du Caire, 2nd, metro Sentier
Cour du Bel Air
Hidden away off the trendy Faubourg Saint-Antoine are dozens of passages and courtyards with ancient ateliers that are now prime real estate. They are like rural villages in the heart of Paris. Cour du Bel Air is one of the most beautiful, with cobbles, trees, flowers and walls covered with ivy. There is an arty bookshop, L'Arbre à Lettres (
arbrealettres.com
). Other passages worth visiting are L'Homme (26 rue de Charonne), and Passage du Chantier (66 rue du Faubourg Saint-Antoine).
• 56 rue du Faubourg Saint-Antoine, 12th, metro Ledru-Rollin
Passage Jouffroy
Always crowded and fun, this place gives a feeling for how the passages were in their mid 19th century heyday. Grévin (
grevin.com
), Paris's version of Madame Tussauds, is always packed, Pain D'épices (
pain-depices.com
) is a wonderful old-fashioned toyshop and Segas (
canesegas.com
) specialises in antique walking sticks. At the end of the main passageway is Hotel Chopin (
hotelchopin.fr
), with rooms from €96, if you book in advance. Turn the corner by the hotel and the boutiques become more intellectual with cutting-edge photography exhibited in Photo Verdeau (
verdeau.fr
) and sumptuous art books in the Librairie du Passage.
• 10 boulevard Montmartre, 9th, metro Richelieu-Drouot
Passage de Choiseul
Choiseul has not made it on to the
Monument Historique
list, so no public funds are available for its upkeep. That's why the signature glass ceiling is covered with ugly netting and leaks in heavy rain – but it has its charms. Check out Chelly's Folies – a tiny bric-a-brac store – the excellent secondhand bookshop, Libria, and some offbeat dining venues, ranging from Little Seoul, which serves authentic Korean dishes, to Darome Diet (
daromediet.com
), a rare Parisian healthfood diner.
•
passagechoiseul.canalblog.com
, 2nd, metro Quatre-Septembre
Passage des Panoramas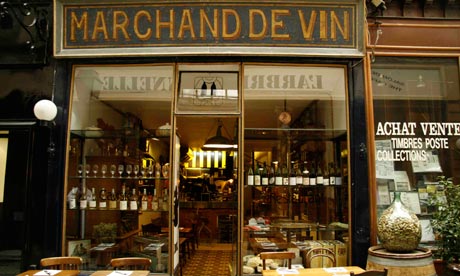 This maze-like passage has numerous entrances and is full of surprises. There are half a dozen philatelists' shops but also several seriously hip wine bars: Les Racines specialises in trendy
vins naturels
, Coinstot Vino sells Italian vintages, and there's a relaxed lounge bar, Le Diable Verre (
lediableverre.fr
). Recently opened Tombées du Camion (
tombeesducamion.com
) – literally "fell off the back of a lorry" – has weird and wonderful collectibles, from freaky plastic dolls to kitsch postcards.
•
passagedespanoramas.fr
, 2nd, metro Grands Boulevards
Passage du Prado
The once-grand Prado still boasts unique art deco details but is in a seriously dilapidated state. Yet it has adapted to the times and still teems with locals from this cosmopolitan immigrant
quartier
drawn by the dozens of African and Asian hair salons. There is also a down-to-earth canteen, Le Filao, serving the delicious cuisine from the island of Mauritius – try a
briani
, their take on a biryani.
•
passage-prado.org
, 10th, metro Strasbourg Saint-Denis